Welcome to UConn! The Husky One Card is the official UConn ID and
key to campus.
The Husky One Card is the official UConn ID for all students, faculty, and staff. It's called the One Card because this one card serves many functions. Here is what the One Card can do for you:
Official UConn ID
Husky Bucks account
Residence hall and lab access
Resident and community meal plans
Student Recreation Facility access
Access to Athletic Events
Student Health and Wellness Services access
UConn Library card
Copying and printing
Discounts
Highlighted Components of Your Card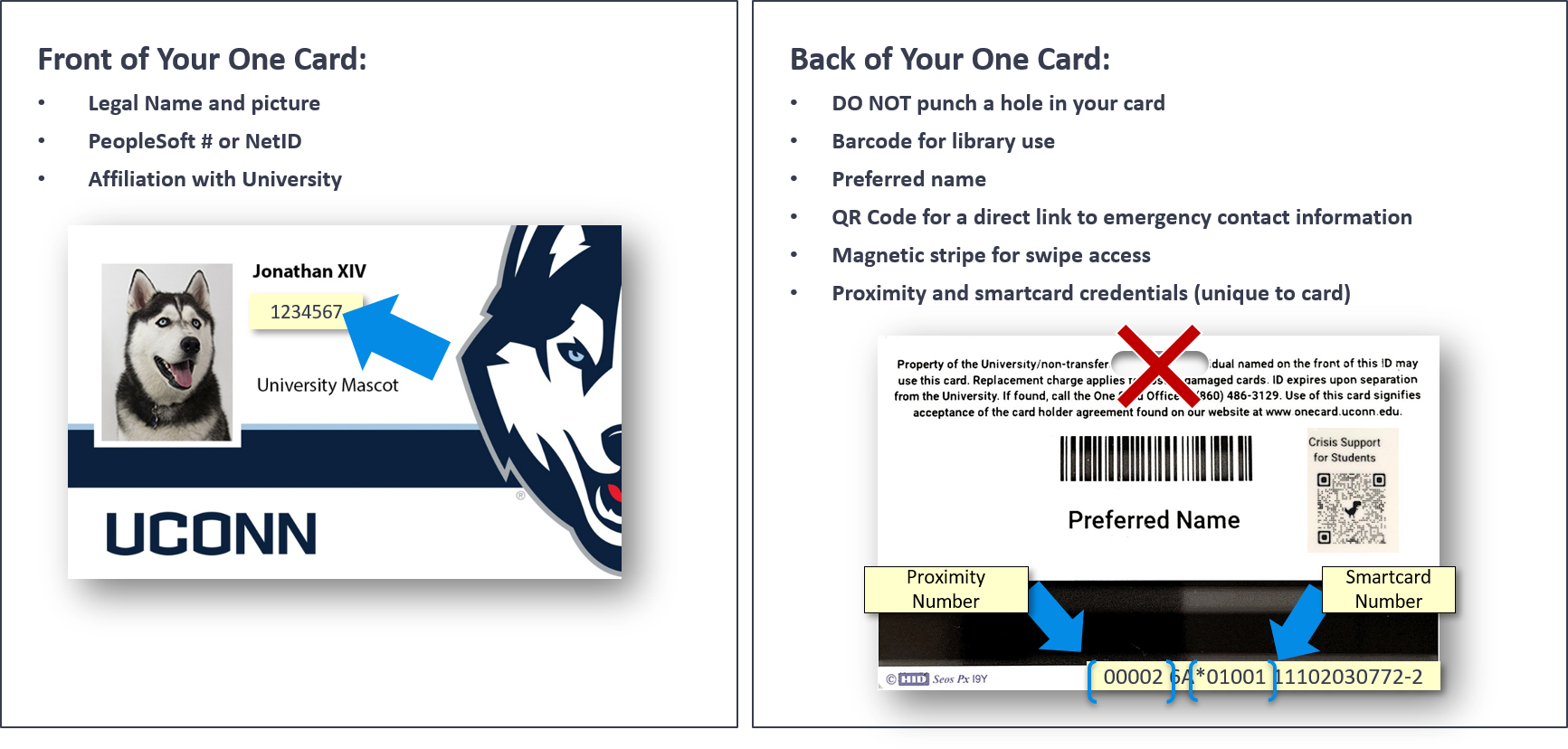 Regional Campus
**Update: If you are attending a regional campus, you will not be retrieving your One Card at the designated One Card distribution location listed below, as in the past. If you are a regional student residing on campus, and did not upload your photo documentation two weeks prior to the start of the semester, your One Card will be mailed to your University mailbox not your home mailing address. All other patrons will receive their One Card via U.S. Postal mail. For students, your One Card will be mailed to your mailing address listed in the Student Administration System. Faculty and staff should email the One Card Office via onecard@uconn.edu with the appropriate mailing address.
Regional Campus
Location
Hours
UConn – Avery Point
Library, 1st Floor
9:15am-5:45pm (M-Th); 9:15am-4:45pm (F)
UConn – Law
IT Help Desk, Rm 234
By Appointment
UConn – Stamford
Registrar/Bursar Office, Rm 121
9am-12pm (M-Th);
1pm-4pm (M-Th)
UConn – Waterbury
Information Desk in Main Hallway
By Appointment
UConn – Hartford
(Undergrad & SSW)
Office of Student Services Undergrad Building, Rm 106
8:30am-4:30 (M-F)
UConn –Downtown Hartford (GBLC)
Business Office Suite 503, 5th Floor of GBLC
9am-6pm (M-F)
Recreation Membership
All UConn Faculty and Staff can utilize the Recreation Facility on campus by becoming a member. Once you are a member, access will be granted by the staff in Rec via your Husky One Card. To find out more about becoming a member visit the UConn Recreation website.